This classic 1930's Colonial Revival style home was in need of a curb appeal intervention! The landscape had not been touched in years resulting in a few plants that were way too large for the space and a lot of bare undefined bed areas. The small entry landing sat in a low spot that held water for days after a rain event and left guests tip-toeing through the mud to get to the front door.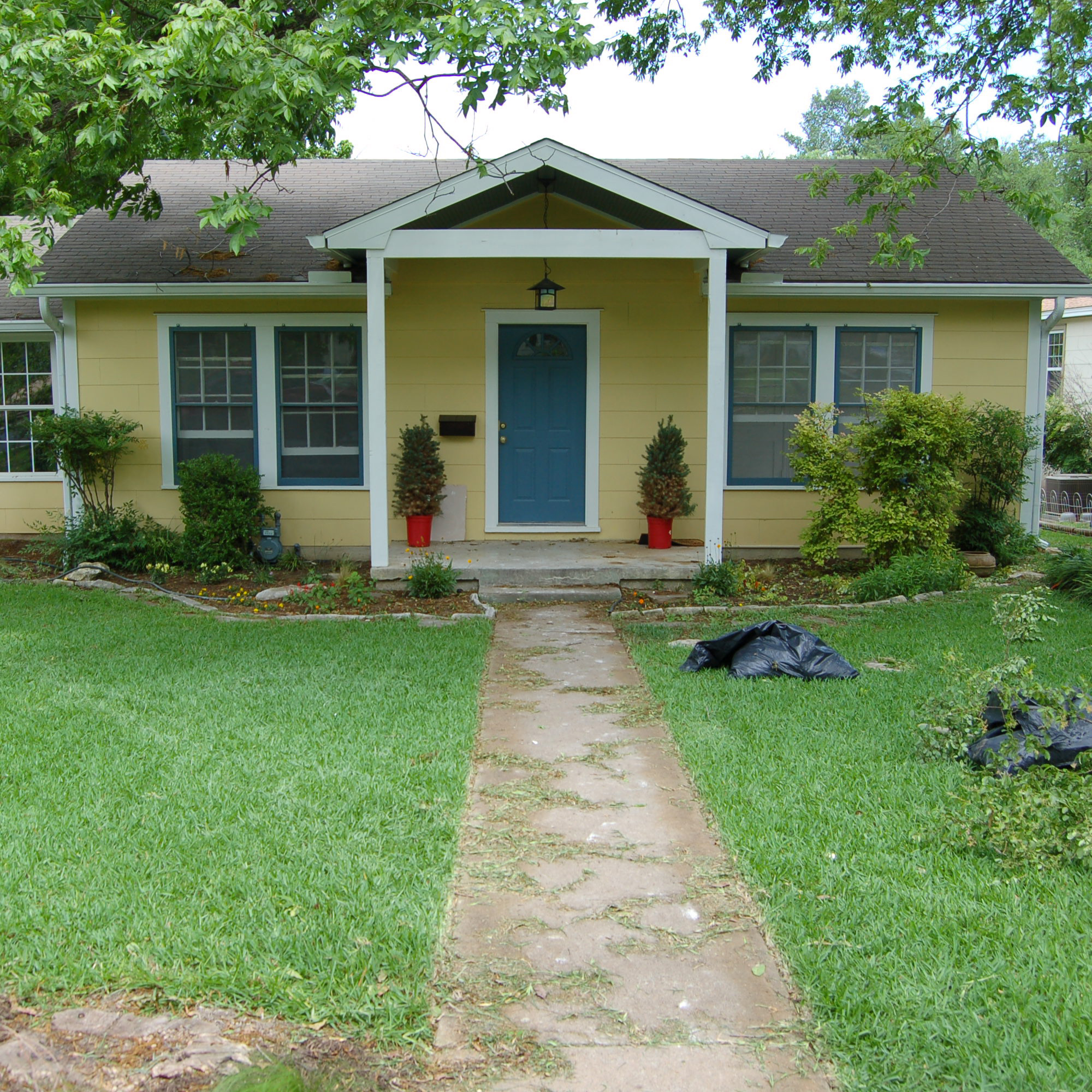 The homeowner wanted to preserve the bones of this classic home while giving it a few modern updates. In order to do that I developed a concept where the walkway and landing took on a more modern look while the planting beds kept a soft cottage garden feel. I picked classic and native plants like Bearded Iris, Pink Skullcap and Coreopsis and worked the bed areas and lawn around an existing Crape Myrtle and Pecan tree. To add seasonal interest, I selected two smaller flowering trees a Texas Mountain Laurel and Flowering Senna.
The traditional home with its central door and matching windows did not need a lot of heavy foundation planting. I wanted to keep the focus on the wonderfully balanced and welcoming front door. To achieve this not only where the columns bumped up in size but the whole front landing was extended with a wood deck that floats over the older smaller concrete landing. To help tie in this element to the modern walkways I built the step out of concrete and wrapped it toward the driveway. This allows easier access from both the front guest parking along the street and side yard driveway parking.
To keep costs down the walkway was constructed with 18" x 18" and 23" x 23" white concrete pavers set in black gravel. These are lined with welded in-place 3/16" steel edging. I typically try to avoid snap in place edging that is ready off the shelf. Especially where there will be high traffic and high visibility. Sharp edges can work their way up creating a hazard and the thinner product does not hold a straight line to neatly edge the gravel.
The turf area is defined by a 6-inch circular concrete strip that was hand formed and poured. I have to say that was one of the biggest challenges of the layout, getting the circular bed edge to line up with the other elements of the design but in the end, I think it worked out well. The final result is an inviting front yard landscape that improves the curb appeal without sacrificing the traditional look of the home.